The 2017 Report on Global Trends in Donations has collected responses from more than 4,000 donors and provides data on the status of donations on the internet at an international level.

4,084 donors in 95 countries have responded to the

2017 Report on Global Trends in Donations

. The paper, put together by

Nonprofit Tech for Good

and sponsored by the

Public Interest Registry

, provides data indicating that most donors are from wealthy countries, and the majority are women of all ages, with a liberal ideological bent. Though many

NGOs and non-profit organizations

are working in developing countries, limited internet access makes it difficult to get online and mobile donations.

Most donors belong to the Baby Boomer generation (1946-1964) and the Unites States leads in donations. Children and young people are the themes that most incite donors to give money. 61% of donors are most inspired around Christmas or holidays, and 45% give to NGOs outside their country of residence. The main countries where the donations go are India, Syria, Kenya, Haiti and Israel.

One noteworthy fact is that 61% of donors prefer to donate online, and 82% do so on a monthly basis.

Facebook

stands as the social network that most inspires donors, as it attracts 62% of them. Social media and fundraising events also inspire more donors around the world. It is also true that 66% of donors have already worked as volunteers for a non-profit organization.

With respect to technology, the report indicates that having a

dot org

(.org) domain reinforces trust in organization's online brand so that donors decide to contribute their grain of sand. However, donor confidence is high, with 9 out of 10 thinking that NGOs are ethical and dignified.

With regard to demographic data, there are almost three times more women donors than men:

2,954 women to 1,074 men

. The report also highlights trends in donations by geographic area: Africa, Asia, Australia and Oceania, North America and South America. The partners who collaborated in the preparation of the report are

Canadahelps.org

,

Everydayhero

, and

Network for Good

. If you want to download the report, you can do so through the

following link

. Just enter your information and you can download a free document in PDF format.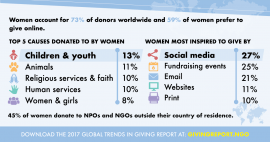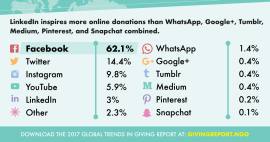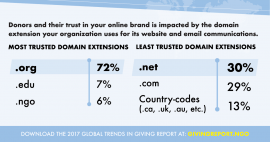 Fuente: Informe 2017 sobre Tendencias Globales en Donación